Welcome to GMCV 2020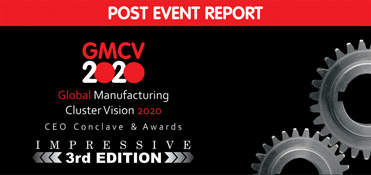 Global Manufacturing Cluster Vision 2020 - GMCV 2020 - conference is an effort to bring the leaders from Indian manufacturing to discuss diverse issues amidst South India's largest manufacturing exposition, INTEC 2010, organised by the country's foremost entrepreneur association CODISSIA - The Coimbaotre District Small Industries Association, a jubilant & vibrant ISO 9001:2000 organisation started functioning in the year 1969 with 40 members and now the membership strength base has crossed 5250.

CODISSIA has strived in making Coimbatore as one of the most successful industrial belt, this conference also salutes the spirit of the entrepreneurs of this city - Manchester of South India, which has also thrived to become country's second largest auto component manufacturing hub.

INTEC 2010 strives to bring the best in class Speakers and Delegates in association with Knowledge & Research Partner "TexasVentures" to provide an opportunity to share their concerns. GMCV 2020 will also explore topics such as how to be a market contender in global market and equip CEOs with leadership skills.