To Sponsor - SMall is Big
Your ONE & ONLY chance to get on front of the highest quality & most targeted manufacturing community.
Speakers - Celebrated global speakers & industrial tycoons will address the conference and share their experience. There will be one - to - one interaction opportunities with them.


Content - Top class international content will give an overview and an opportunity to learn best practices of world class manufacturing.


The best value you can find - No other marketing medium can deliver the return on your investment (ROI) that you will get from this event. It provides an opportunity to make personal contact with the cream of manufacturers and reach out to the critical mass of potential 250 decision makers. Increase market exposure and generate profitable new business.
Make your mark today & drive your sales in a strong and growing market.
Conference Highlights
Top 250 CEOs from manufacturing companies to create an interactive forum.


Provides guidelines to achieve world-class manufacturing standards.


Gains from the wisdom of top practicing managers and leadership gurus about the worldwide best manufacturing practices.

Print & Direct Marketing (with Sponsors logo)


Advertisements in all leading Business News Papers.


Advertisements, Multi-page inserts & Editorial coverage in leading B2B Magazines.


Online promotions on leading Website.


Nearly 3,000 printed mailers will be sent to potential
delegates.


Live Streaming of the entire conference on YouTube.


EDM's will be sent to more than 5,00,000 senior executives of the manufacturing industry.


A month long tele calling to around 3,000 contacts.

Sponsorship Opportunity


Branding Opportunity
DELEGATE PROFILE
Classification by Company Size
| | |
| --- | --- |
| Large Scale Enterprises | 15% |
| Medium Scale Enterprises | 40% |
| Small Scale Enterprises | 45% |
Classification by Job Function
Chairman, MD, CEO, CTO, CFO,
COO & Senior-Level Management

75%
Middle Level Management & Consultants

15%
Association & Government Body Representatives

10%
Other Job Functionaries
10%
Other Job Functionaries
5%
Classification by Geographical Region (India)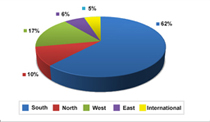 Classification by Industry

Discrete Manufacturing :
Manufacturers of Gears, Compressors, Driers, Cooling Towers, Heat Exchangers, Valves, Pneumatic & Hydraulics, Sheet Metal, Welding & Cutting Machines, Fabricators..

Process Manufacturing:
Manufacturers of Textiles, Papers, Cements, Paints, Pharma & Chemical.



Note :

These are based on TexasVentures analysis. May vary from actual attendees.